One bird two birds red bird BluesBird
Title: One bird two birds red bird BluesBird
Author:  Ron Hill
Genre: Editorial Cartoons, Politics, Comic Strips
ISBN: 978-1-7331795-4-6
Format: 9″ x 6″ Paperback
Publication Date: 
January 2022
Pages: 140
Pictures: Over 100 cartoons, plus 26 pages of new artwork
Price: $19.95
This book will ship in February 2022
One bird two birds red bird BluesBird
is available by clicking the PayPal button below. Offer available in the US only.
2021… Weren't we supposed to be back to normal by now?
But with Covid-19 variants raging, political unrest taking over the country, and extreme weather patterns slamming our planet, 2021 is anything but normal. BB BluesBird has survived all of it and continues to tweet his opinions through Ron Hill's editorial cartoons.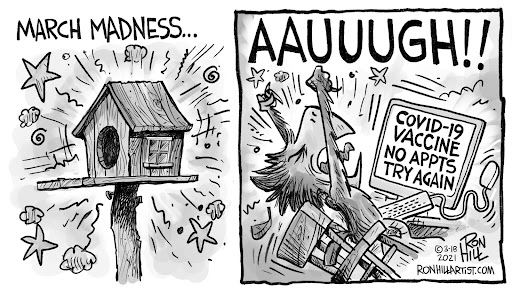 Hill created BB BluesBird in 2004, as a newspaper comic strip feature. The plucky little avian with big dreams of taking the stage as a blues musician was shopped around to the remaining four or five comic syndicates, to no avail. BB began to appear in Hill's paintings, personal comics and drawings. The bluesy bird's journey was continued in a weekly web comic scripted by legendary underground comic artist Gary Dumm that lasted for two years, until life intervened and BB was put on the back burner.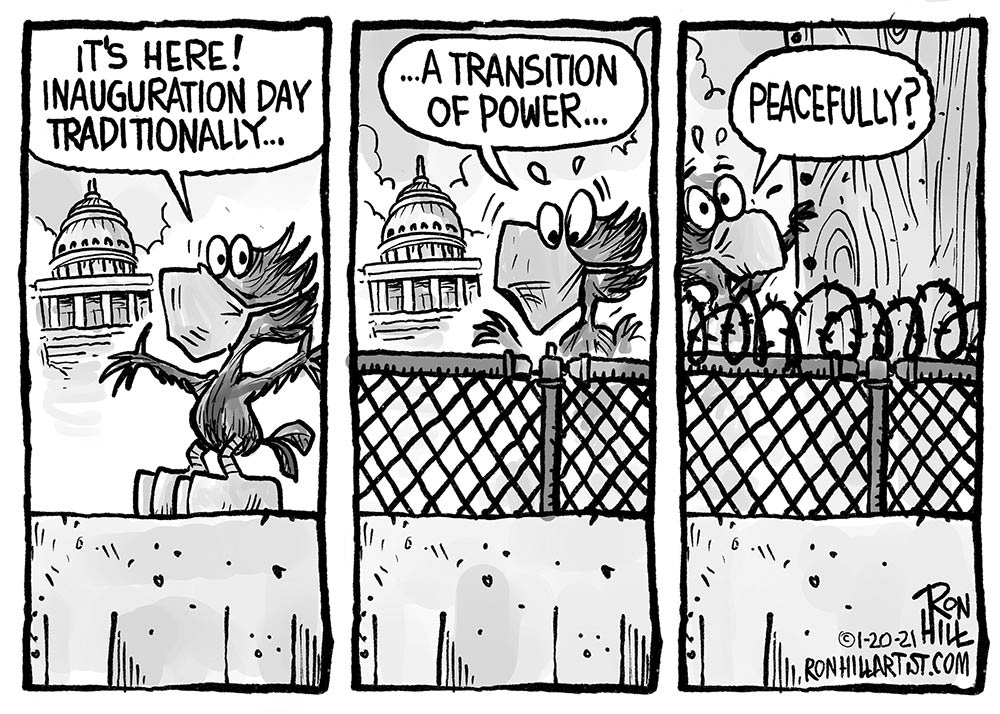 In January 2020, BB BluesBird made his reappearance in print when Hill began drawing him into every one of his editorial cartoons. True to form, in 2021 BB continued vocalizing his opinions on the pandemic, climate change, social justice, and local, regional and world politics.
This book features every single editorial cartoon that Hill published in 2021, including some unpublished cartoons. And, as an added bonus, the book includes 26 never-before-published pages of Hill's Dr. Seuss-inspired verse and art.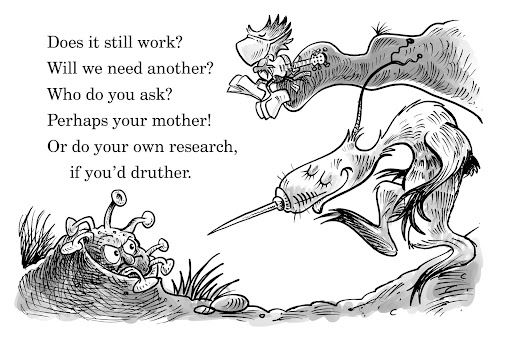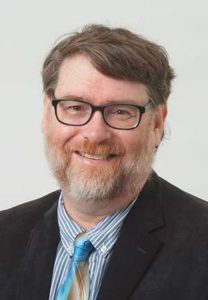 Over the last 40 years, Ron Hill has been a cartoonist, illustrator, caricaturist, creative director, author, editor and high school teacher. Born in Cleveland, he is a graduate of Solon High School and the Art Institute of Pittsburgh. An award-winning editorial cartoonist, since 1999 he has been a weekly cartoonist for four Cleveland-area newspapers: The Chagrin Valley Times, The Solon Times, Geauga Times Courier and West Life. As if that's not enough, Ron is an in-demand caricature quick-sketch entertainer, and creative director at Act 3, a web, video, publishing and advertising firm. He is a member of the American Association of Editorial Cartoonists.
Watch a 1-minute video about Ron's work as a cartoonist.