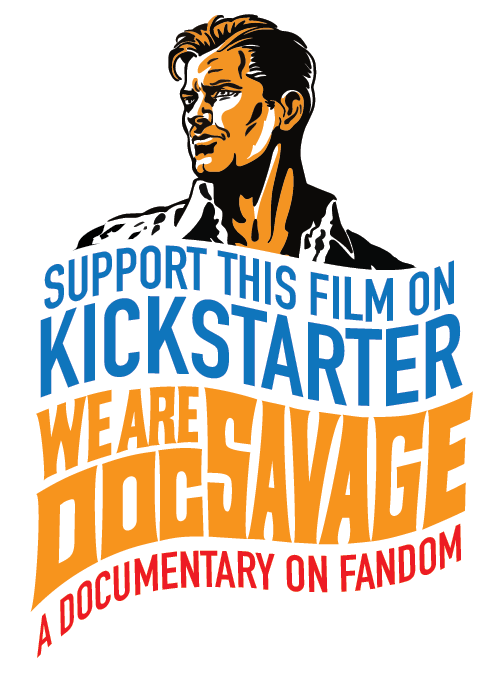 To the world at large,
the Man of Bronze is a man of mystery.
So mysterious, in fact, that he is largely forgotten.
Except to the legions of fans who have kept
Doc Savage's legacy alive, through
their lives and passions.
This is their story.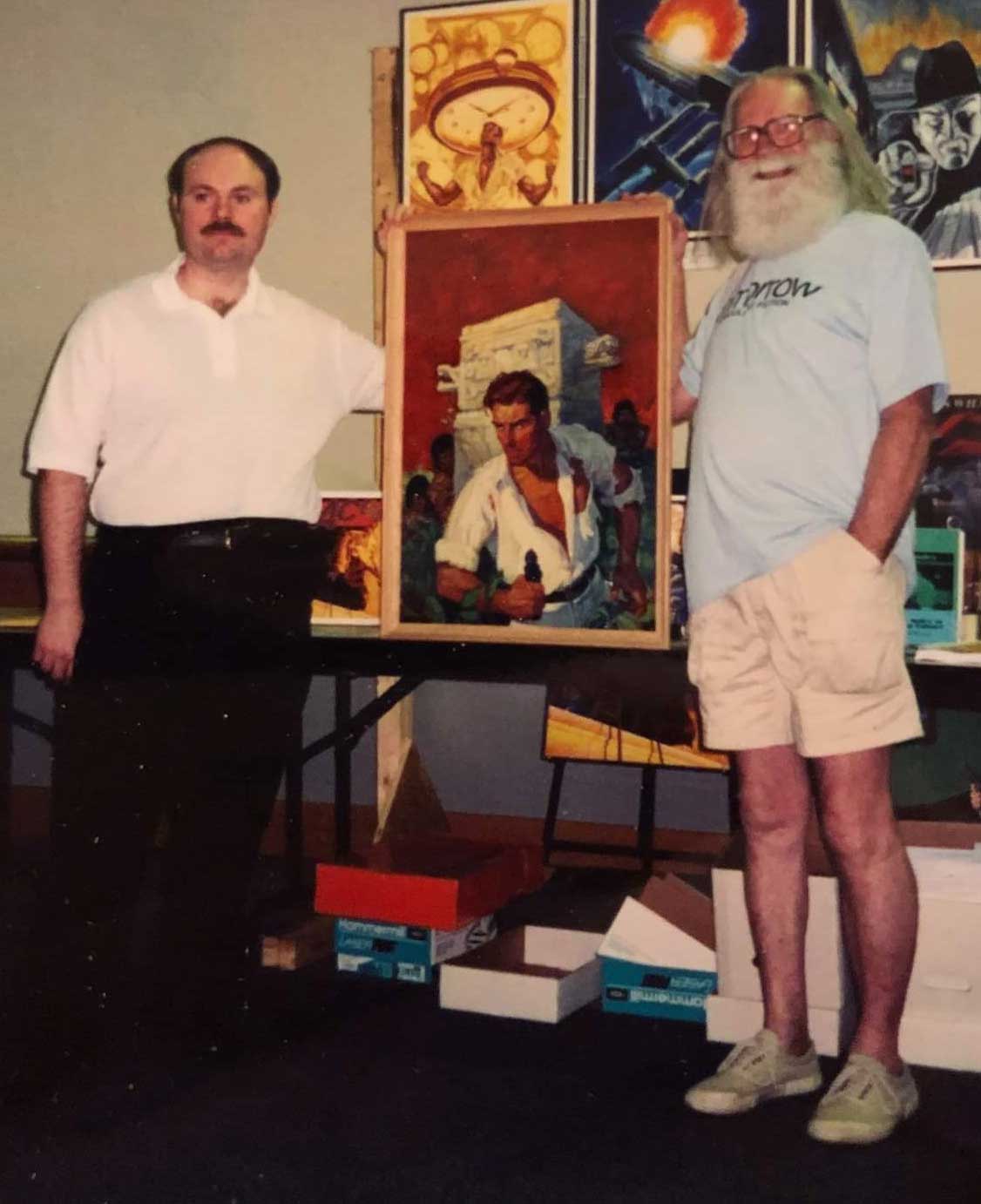 In a photograph by Jen DiGiacomo from 1999, we see Scott Cranford on the left receiving the original 1933 Man of Bronze painting by Walter Baumhofer from Rusty Hevelin. Rusty wanted the artwork to go to a fan who would preserve it. Today, Scott has it hanging in his home with other Doc Savage artwork by James Bama and Bob Larkin.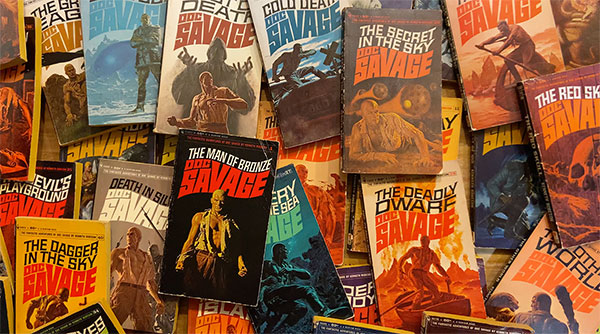 Director Ron Hill has been a Doc Savage fan for almost 50 years, discovering The Man of Bronze through the inspirational cover illustrations by the late James Bama, which adorned more than 60 paperback reprints in the 1960s (above). So inspirational, in fact, that Hill was driven to pursue a professional career in commercial art, illustration and cartooning while still in middle school. An armchair authority on Doc Savage and related pulp and science fiction literature, Hill was an early contributor to The Hidalgo Trading Company, now DocSavage.org, one of the first Doc Savage websites in the mid 90s. You can read one of his early contributions here.
Act 3 has been producing interactive media, design and illustration for a myriad of clients since its inception in 2016, as well as a couple of very short documentary features that have been screened at the Chagrin Documentary Film Festival.
Together, they are going to tell the story of the collectors, creators and characters in the world of Doc Savage fandom. Doc is a pivotal figure in American pop culture, one of the first of the "hero pulps" in the 1930s and 40s, and a direct inspiration to such iconic figures in genre literature and media as Superman, James Bond, Mr. Spock and The Fantastic Four. We Are Doc Savage is Act 3's and Hill's first indie documentary.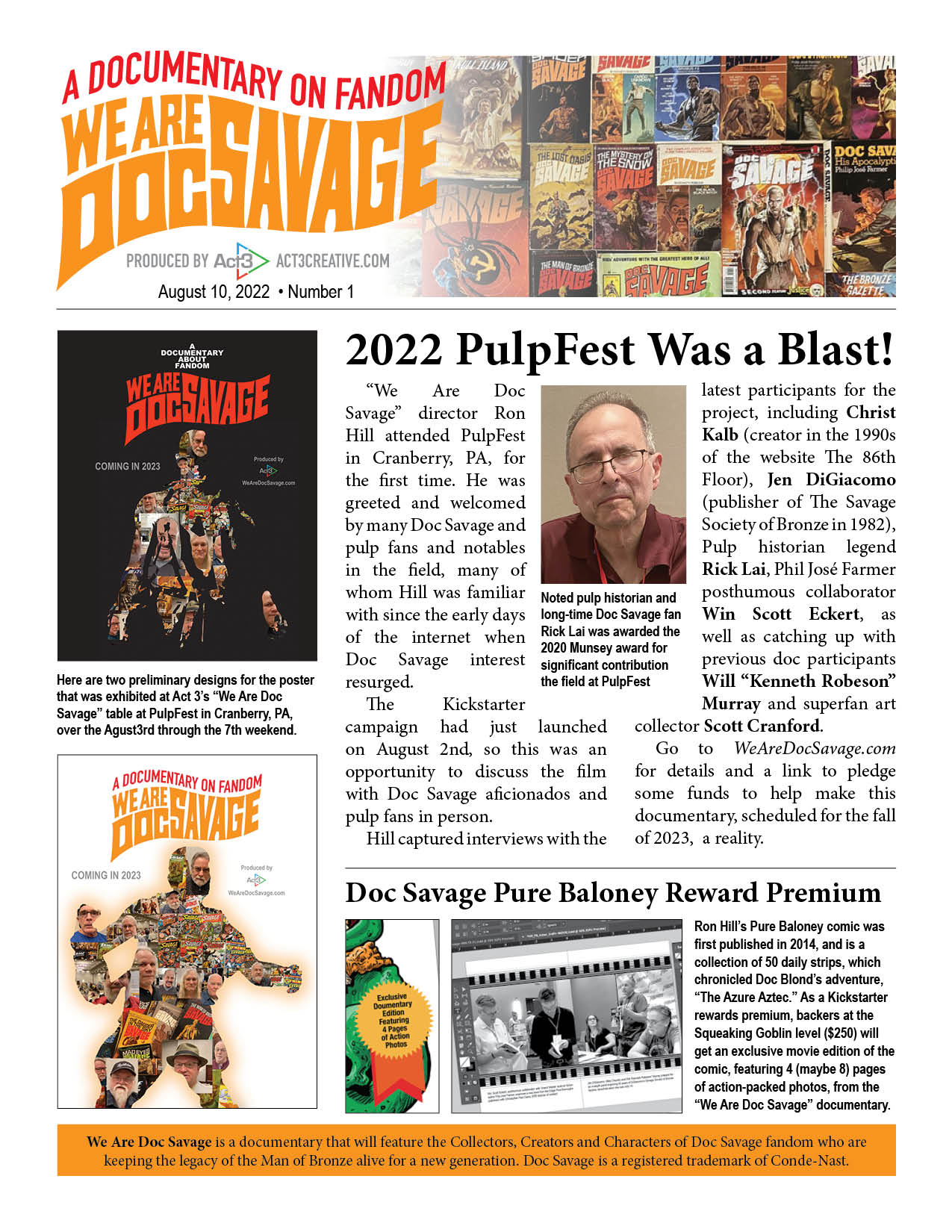 August 10… After a successful weekend at PulpFest over the August 3-7 weekend, we conducted almost a dozen new interviews, including second conversations with Will Murray (the latest author writing under the Kenneth Robeson byline) and Scott Cranford (owner of the original Baumhofer painting for The Man of Bronze in 1933), new interviews with Jen Digiacomo (publisher in 1982 of The Savage Society of Bronze), Chris Kalb (he created the 86th Floor website in the mid-nineties), Rick Lai (notable pulp historian, Doc Savage chronolgist, and this year's Munsey Award winner for significant contributions to pulp fandom), Win Scott Eckert (who posthumously collaborated on the latest Doc Caliban with Science Grand Master author Philip José Farmer), as well as old and new fans to continue to flesh out the story of Doc Savage's lasting impression on creators, collectors and characters!
Please go to the Kickstarter campaign page to pledge anything you can to this worthy project, and share the page with as many friends, colleagues, associates and contacts as you can! There are some really cool rewards, and many levels to choose from!
Contact Ron to share your story and learn more.