Virginity Lost in Vietnam
A coming-of-age memoir by an award-winning journalist.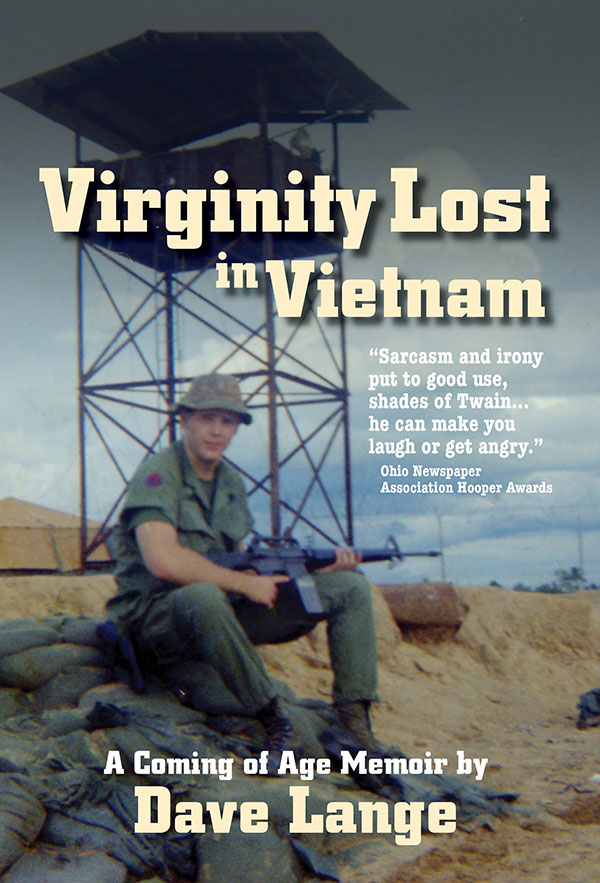 Title:  Virginity Lost in Vietnam
Author:  Dave Lange
Genre: Vietnam, History, Memoir
ISBN: 978-1-5323-4518-0
Formats: 6″x9″ Hardcover
Publication Date: 
July 1, 2018
Pages: 460
Pictures: 12 pages of glossy photos
Price: $27.95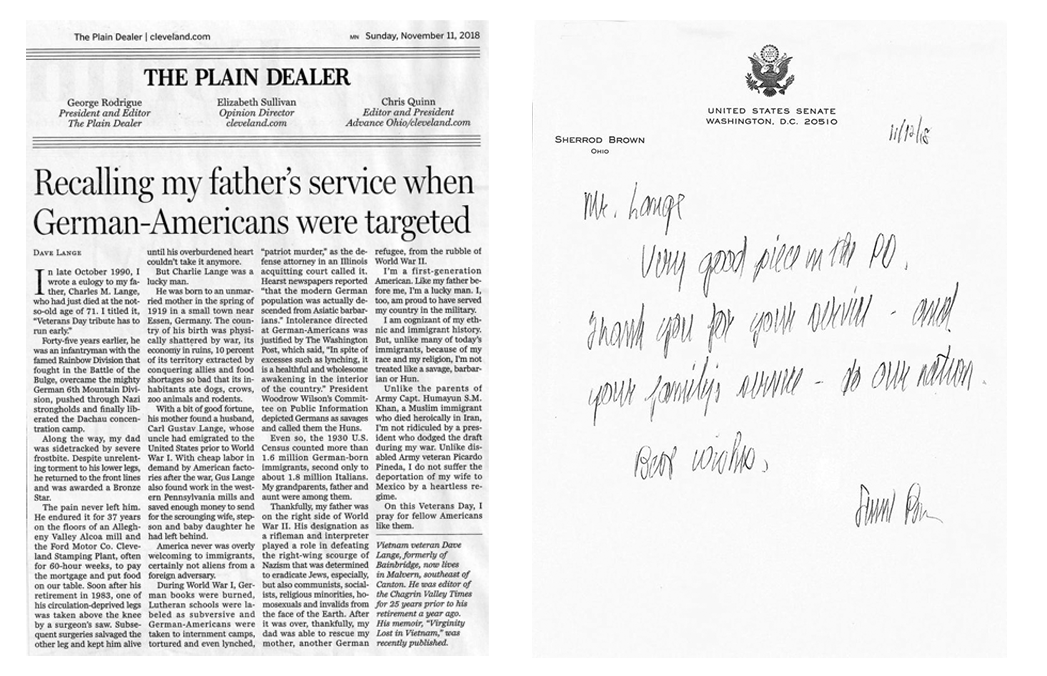 Dave Lange's moving editorial which was featured in the Plain Dealer, from November 12, 2018, and U.S. Senator Sherrod Brown's letter in recognition of Dave's and his father's military service:
Remembering My Father's Service and a Time When German-Americans Were Targeted In America
Dave Lange, Guest Columnist
MALVERN, Ohio — In late October 1990, I wrote a eulogy to my father, Charles M. Lange, who had just died at the not-so-old age of 71. I titled it, "Veterans Day tribute has to run early."
Forty-five years earlier, he was an infantryman with the famed Rainbow Division that fought in the Battle of the Bulge, overcame the mighty German 6th Mountain Division, pushed through Nazi strongholds and finally liberated the Dachau concentration camp.
Along the way, my dad was sidetracked by severe frostbite. Despite unrelenting torment to his lower legs, he returned to the front lines and was awarded a Bronze Star.
The pain never left him. He endured it for 37 years on the floors of an Allegheny Valley Alcoa mill and Ford Motor Co.'s Cleveland Stamping Plant, often for 60-hour weeks, to pay the mortgage and put food on our table. Soon after his retirement in 1983, one of his circulation-deprived legs was taken above the knee by a surgeon's saw. Subsequent surgeries salvaged the other leg and kept him alive until his overburdened heart couldn't take it anymore.
But Charlie Lange was a lucky man.
He was born to an unmarried mother in the spring of 1919 in a small town near Essen, Germany. The country of his birth was physically shattered by war, its economy in ruins, 10 percent of its territory extracted by conquering allies and food shortages so bad that its inhabitants ate dogs, crows, zoo animals and rodents.
With a bit of good fortune, his mother found a husband, Carl Gustav Lange, whose uncle had emigrated to the United States prior to World War I. With cheap labor in demand by American factories after the war, Gus Lange also found work in the western Pennsylvania mills and saved enough money to send for the scrounging wife, stepson and baby daughter he had left behind.
America never was overly welcoming to immigrants, certainly not aliens from a foreign adversary.
During World War I, German books were burned, Lutheran schools were labeled as subversive and German-Americans were taken to internment camps, tortured and even lynched, "patriot murder," as the defense attorney in an Illinois acquitting court called it. Hearst newspapers reported "that the modern German population was actually descended from Asiatic barbarians." Intolerance directed at German-Americans was justified by The Washington Post, which said, "In spite of excesses such as lynching, it is a healthful and wholesome awakening in the interior of the country." President Woodrow Wilson's Committee on Public Information depicted Germans as savages and called them the Huns.
Even so, the 1930 U.S. Census counted more than 1.6 million German-born immigrants, second only to about 1.8 million Italians. My grandparents, father and aunt were among them.
Thankfully, my father was on the right side of World War II. His designation as a rifleman and interpreter played a role in defeating the right-wing scourge of Nazism that was determined to eradicate Jews, especially, but also communists, socialists, religious minorities, homosexuals and invalids from the face of the Earth. After it was over, thankfully, my dad was able to rescue my mother, another German refugee, from the rubble of World War II.
I'm a first-generation American. Like my father before me, I'm a lucky man. I, too, am proud to have served my country in the military.
I am cognizant of my ethnic and immigrant history. But, unlike many of today's immigrants, because of my race and my religion, I'm not treated like a savage, barbarian or Hun.
Unlike the parents of U.S. Army Capt. Humayun S.M. Khan, a Muslim immigrant who died heroically in Iraq, I'm not ridiculed by a president who dodged the draft during my war. Unlike disabled Army veteran Ricardo Pineda, I did not suffer worry about the threatened deportation of my wife to Mexico by a heartless regime.
On this Veterans Day, I pray for fellow Americans like them.
Local author explores loss of Innocence for sailor, nation
Brian Albrecht
Plain Dealer, July 1, 2018, updated January 30, 2019
Read the article here
As a Vietnam veteran, it was always clear to me that Kent State protesters were not 'the enemy'
Dave Lange, Editorial
Plain Dealer, May 3, 2020
Read the editorial here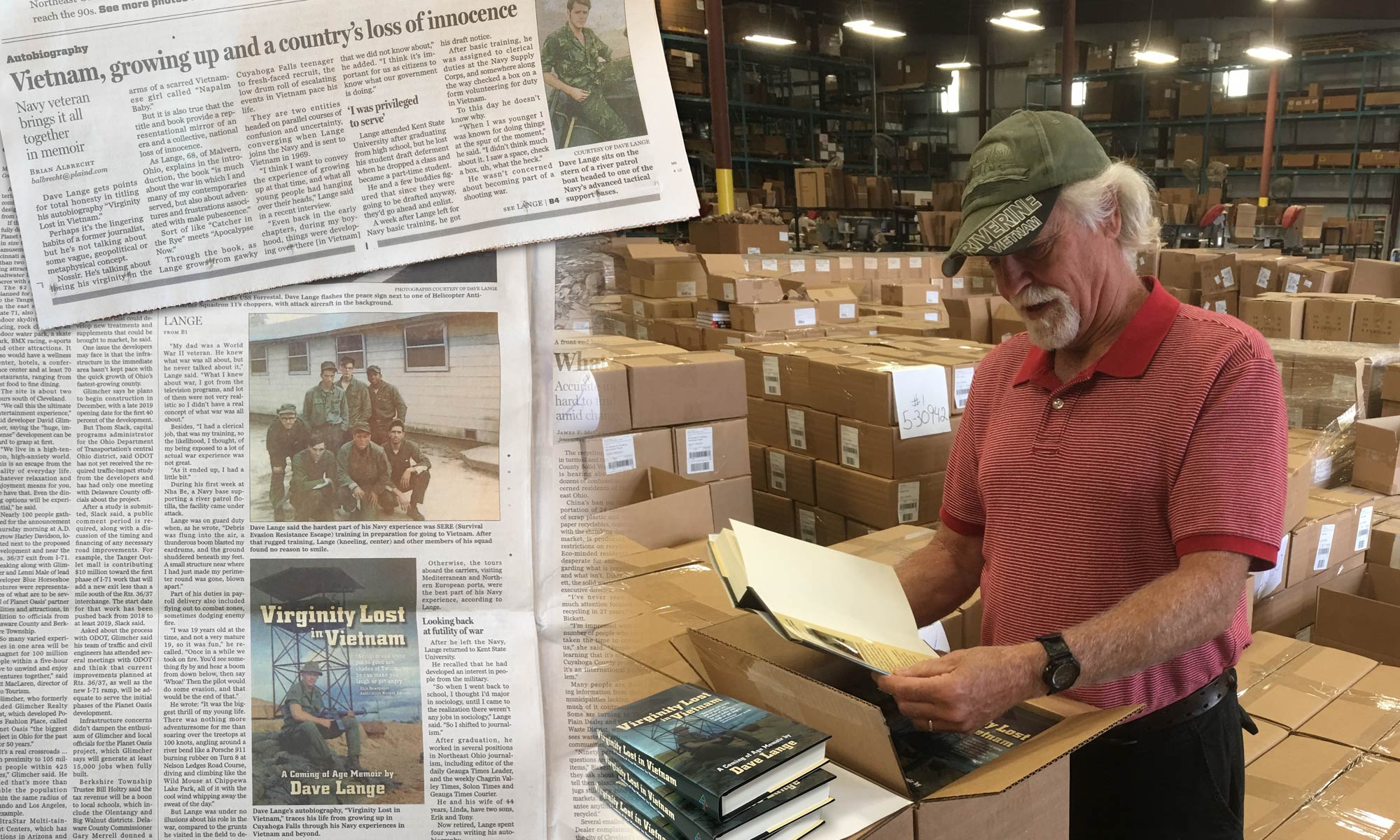 Events
Due to the Coronavirus Pandemic, all previously scheduled events have been cancelled. As soon as new appearances, talks and book signings are scheduled they will be posted here. Please check back often.
Americans Were Targeted In America
The following interview was conducted at the OHIOana Book Festival in Columbus, Ohio, where Dave was a panelist in April of 2019.
Columbus, Ohio • April 27, 2019
Written and Photographed by Doreen Dawkins
Excerpt from www.614whats2love.com, April 29, 2019
Used by permission
Can you tell us about the title of your book?
Yes, the title is a double-entendre. The book is about what happened to me and what happened with the country.
When did you realize you wanted to be a writer?
I have been a journalist for my entire career (40 years). I have been writing and editing stories about other people in a wide variety of experiences. When I was retiring, I decided to write my own story. My book is about the Vietnam war but it's not a war story. It is a coming of age story. It is about what it was like growing up in that era, the experiences of children and teen agers and what they were like then, and what was happening in the world that was impacting our lives.
How long did it take for you to write the book?
Four years.
What is your writing schedule when you are writing?
I didn't have a specific work schedule. I was working part time in the newspaper business. Once I completed my paid job, I spent time on the book, writing and researching.
What is your interesting/unique writing quirk if you have one?
I don't think there is anything unique about my writing style. I think my story is unique. This is not a war story. Most of the books that have come out about the Vietnam war include a lot of war stories. There are 26 chapters in the book. Only 4 of the chapters are in Vietnam.
What is the most surprising thing you learned when writing this book?
When I did the research, I was surprised what was happening in the political world, the military, and right near me that I didn't know about.
©Doreen Dawkins April 29, 2019
Dave Lange's work has been recognized many times over his 40-year journalism career for editorial pieces and column writing. A few comments by awards judges are reproduced below, as well as a recent press release for "Virginity Lost in Vietnam."
There is also a press packet available which includes images, captions and more information for use in review and promotion. Click here to download the zipped archive (19.3MB)